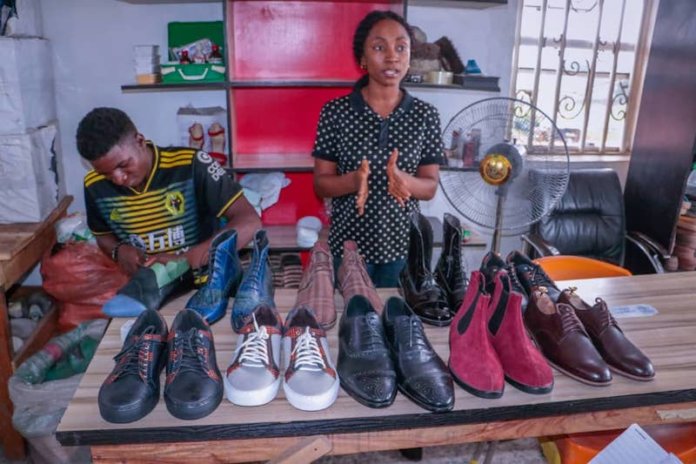 Busy hands of artisans coupled with the efforts of the state government to promote micro, small and medium scale enterprises has engendered exponential rise in the reputation and scale of production of made in Aba products, thereby earning it the undisputed hub of shoe production in Nigeria, Emmanuel Ugwu-Nwogo reports
The Aba North Shoe Plaza Industrial Market is a beehive of activities on any business day. Inside the numerous workshops that dot the area artisans are busy crafting various types of foot wears. The production process involves thousands of hands dexteriously shaping the footwears at every stage till the finishing touch when they are ready for the market. The products enjoy good patronage not only in Nigeria but across West Africa and beyond.
Evidently, there is high level of specialisation and division of labour with each artisan producing a particular type of footwear. The Chairman of the industrial market, Deacon Daniel Obioma said over 15,000 artisans are working at the cluster, each producing on daily basis an average of 12 pairs of footwears of different types and designs – shoes, sandals, pams, boots, canvas, cortina, sneakers, etc.
The beehive of activities at the Aba North Shoe Plaza are replicated at several other clusters in other locations in Aba. They include Umuehilegbu(Bakassi), Power Line, Ariaria(Old site), Samek, Imo Avenue, Ochendo Shoe Plaza, among others. The number of artisans varies from cluster to cluster but it is estimated over 100,000 pairs of hands are involved in the production of the famous Aba Shoes or footwears. The combined production outputs from all the clusters is what has conferred on Aba its undisputed reputation as the hub of shoe production in Nigeria.
It was earned, not ascribed. And over the years, Enyimba City, as Aba is fondly called, has maintained its status as the hub of shoe production in Nigeria. The artisans that toil in their workshops day in and day out ensure that the reputation is sustained irrespective of the vagaries of the economy. There were times when the footwears from Aba were regarded with derogatory air of inferiority. But that era has gone for good.
Governor Okezie Ikpeazu in his relentless drive to promote micro, small and medium scale enterprises (MSMEs) has engendered exponential rise in the reputation and scale of production of made in Aba products. "The made in Aba shoe you know before is not what we have now," enthused Obioma. The chairman of Aba North Shoe Plaza said that the quality of made in Aba products got a major boost when Governor Ikpeazu came into the scene to promote shoemaking business. "There has been a great idea, exposure and high standard since he came into shoe industry in 2015," he said.
According to him, Ikpeazu's intervention has placed Aba producers on the global market space thereby expanding their customer base. "It is a very good development for us," he said adding that the state governor has taken them to exhibitions in a number of foreign countries.
To ensure a sustained global competiveness of Aba footwears, the Ikpeazu administration is not leaving anything to chance. Quality must never be compromised has become an article of faith for both producers and the government. The General Manager of Abia State Quality Management and Marketing Agency, Mr. Sam Hart said his agency has continued to keep a tab on the products and services coming out of Aba to ensure they have the mark of international standard. "We have strengthened our Quality Management Department by appointing a UNIDO-trained quality specialist as D
director who has pursued our standardisation drive with vigour. We have introduced Abia State Quality Standards and have undertaken random quality control visits in addition to partnership with Federal Quality Management Agencies for synergy in Abia State".
Apart from the emphasis on standards, a whole lot has changed for the Aba shoe making industry. Hitherto, the trade was sustained through the age-old Igbo apprentice system, which has become an area of study in Harvard University. Chinedu Joseph, who specialises in making of boots, said he inherited the trade from his own father after undergoing years of tutelage. He has now been on his own for over 15 years and following in the footsteps of his father in making boots. "I'm happy doing my job," he said, adding that he makes up to 10 pairs of boots daily "because there is division of labour in the process".
However, there is now a conscious effort to train the artisans outside of the apprenticeship system. Mr. Bentley Chukwuemeka and wife, Chidinma co-founded The Footwear Academy, Aba, to produce the manpower needed for the Aba footwear industry. It was set up with a…


Read More: Engendering Exponential Rise in Aba Shoe Production